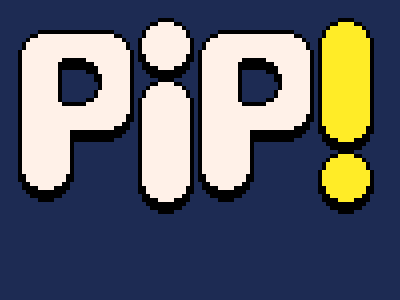 Pip!
Time for another round of "this might be the last update" update!

Pip 1.3 Updates

Major:

Addition of an Assist Mode, wherein players begin the game with all 10 jumps. The player is required to collect all 10 feathers in this mode, instead of simply collecting as many feathers as necessary to unlock enough jumps to reach the nest. While there are still a couple of jumps which could be considered challenging this mode is meant to increase accessibility for all those interested in playing without a potentially prohibitive difficulty. Assist Mode is selected from a new menu on the title screen, as an alternative to Arcade Mode (the classic/original experience as included in version 1.2). Returning to the nest without collecting all the feathers will not trigger the end of the game; a future update may tweak the details of this to make the experience more clear.
Bug Fixes

Resolved a bug where re-enabling the background music would always play the "gameplay" track, regardless of game state.
Quality of Life

Made the text for toggling the background music and in-game timer more clear in the pause menu.
Known Issues:
Text prompts can overlap one another when triggered in quick succession, rendering them illegible.
A fix for the text prompts overlap may be included in the near future. This potential update may also help to clarify the differentiation of endgame requirements between Arcade and Assist modes more clearly during gameplay.

Thank you for enjoying my birb!
- rare