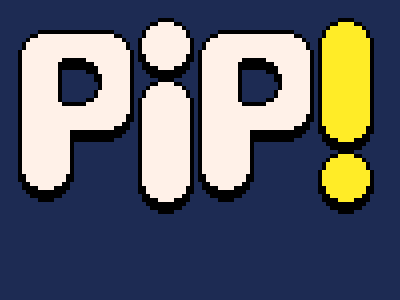 Pip!
Pip's 2nd Birthday - 1.4 Update!
---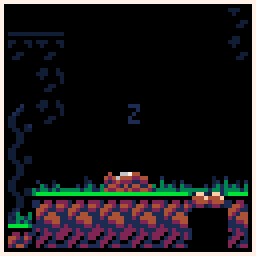 Hi folks!
It's been a long time but I've finally looped back around to our favorite bird friend for one final pass of updates. Pip was one of my earliest complete projects in Pico-8 and, to be candid, it has always shown in the details and polish. I've wanted to do this for a while and am now happy to release the final version of Pip!
This update presents no mechanical or gameplay changes, so it's the exact same game for those who've played before (meaning you can speedrun this version fairly against the previous versions, for those that do) but instead I've included a variety of minor graphical updates and a number of quality-of-life features. Below I've included a list of all the changes that have made it into this build; some will be obvious as soon as you load in, others you may never even notice if I've done it right.
I'm keeping the previous 1.3 update available on the page as well, partially for posterity but also for those who might still prefer some of the original graphics which got tweaked.
I'm grateful to everyone who has played over the last two years, and hope you enjoy the new details here! Maybe the future will give me a chance to visit Pip again in another adventure and build on what's here, but in the meantime I hope everyone enjoys their visit to this quiet, rainy little place that Pip calls home.
- rare

Patch Notes:
New feature: can quit from gameplay directly back to title menu (disabled when on title menu or in dev logo splash)

New feature: can press Z+X after completing game to quit directly back to title menu
New feature: silhouettes of feathers now appear in place of collected feathers
New feature: added temporary upward camera offset while standing still and holding up to 'peek'
New feature: added text prompt for number of remaining feathers to find when returning to nest early in Assist mode
Changed thickness of game border and moved UI elements in slightly to accomodate
Added scrolling clouds to very top of game map
Reworked background asset layout in various places [e.g. added brick shadows/towers outside of main castle area, rebuilt subterranean assets below low walkway]
Minor changes to opening cutscene [zoomed in resolution, extended duration slightly]
Minor changes to foreground assets [implemented new color to add depth/distinction to various tiles in all areas, switched rain/waterfalls to a different blue]
Minor changes to background assets [addition of new color to distinguish foreground and background more clearly, added 1 new tile variant for brick backgrounds] Minor adjustments to animation speeds of lava and Pip's standing idle animation
Minor color changes to background circle of game logo on title menu